Rakeback on Merge Network to end June 1st, lock your rakeback in now
Poker Rakeback
Wednesday, 11 May 2011 09:15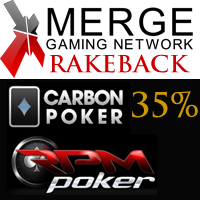 Time is running out to secure a Rakeback account on the Merge Gaming Network before it ends on June 1st. All players tagged as a Rakeback account before June 1st will be grandfathered in, therefore if you don't have a Rakeback account on a Merge skin, sign-up now to secure your 35% Rakeback deal.
In place of their Rakeback program Merge will be offering a high-end and aggressive VIP Program where top rakers can earn the equivalent of well over 50% Rakeback.
To secure your rakeback account, Rakeback Nation offers two deals on the top skins on the Merge Gaming Network.
$10.000 Monthly Personal Rake Chase
200% up to $2,000 Deposit Bonus
High Value VIP program
Free Training from Drag The Bar
Super Money Tree and other monthly promotions
$25,000 Monthly Rake Chase
100% Deposit Bonus up to $1,000
6.5% VIP Cash Back
Mo' Money Mo' Promos in May
If you already have a Rakeback account at a Merge Network skin, then you must stay with that Rakeback deal, however any player with a Merge Network account without Rakeback can sign-up at any other skin to secure their Rakeback deal.