Full Tilt Poker Double Guarantees Week
Poker Rakeback
Thursday, 24 March 2011 10:15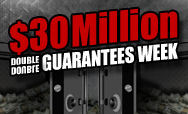 Full Tilt Poker Double Guarantees week starts on March 28th and runs through April 3rd. During this time Full Tilt Poker is doubling every guaranteed prize pool while adding a triple guarantee for the final 12 hours. The total prize pool is expected to top $30 million during Double Guarantees Week.
During the week Full Tilt Poker will be converting all guarantee tournaments to Multi-Entry Tournament format which allows you more chances to win a share of the big prize pools.
What is a Multi-Entry Tournament? Multi-Entry tournaments allow you to enter the same tournament numerous times essentially allowing you to multi-table in the same tournament. Each entry in a Multi-Entry poker tournament has it's own chip stack and is dealt it's own hands. You're allowed to register multiple entires at the same time or wait and use additional entries as a second chance if you're eliminated from play. When entering multiple times into the same tournament, your entries will always be on different tables.
The Double Guarantees Week ends with a bang on Triple Guarantee Sunday where the prize pools between 12:00pm ET and Midnight are multiplied by three, highlighted by the $2,250,000 guarantee which starts at 17:00 ET and allows you to buy-in up to 6 times.
It's a great week to grind at Full Tilt Poker with these massive prize pools. If you don't have a Full Tilt Poker account, you can create a new account and get a 27% Rakeback.